About Troop 162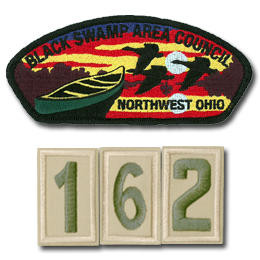 Troop 162 was founded in 1999 with Brian Musselman as the Scoutmaster. We are chartered with the Cridersville United Methodist Church

. For more than 21 years we have strived to provide an excellent scouting experience to the youth of our community.
We are based in Cridersville, Ohio and our troop is a member of the Black Swamp Area Council

and in the Old Sycamore District!

We have scouts and volunteers from Cridersville, Lima, Wapakoneta and surrounding communities.
Since Troop 162 is a boy-run troop, there is an opportunity for all of the Scouts to gain leadership experience as they grow within Scouts. Elections are held twice a year, which provides opportunities for new leadership positions within the Troop.
Key adult leadership positions are typically held for a more extended period time, although we welcome new leaders transitioning in with Webelos. There are also many volunteer opportunities available for all parents.
---
Troop 162 Adult Leaders
"Key Three"
Chartered Organization Representative
Rev. Mark Hollinger
Troop Committee Chair
Johnny Elchert
Scoutmaster
Brian Musselman
---
Assistant Scoutmasters
Ted Crow
David Edwards
Bill (Duckie) Musselman
Clint Smith
Committee Members
Mark DeLeon
John Drake
Jon Hiestand
Steven Jenkins
Ralph Long Jr.
Ralph Long Sr.
Mel Musselman